gTool "B" Series All In One Corner And Sidewall Repair Kit Review- Repair X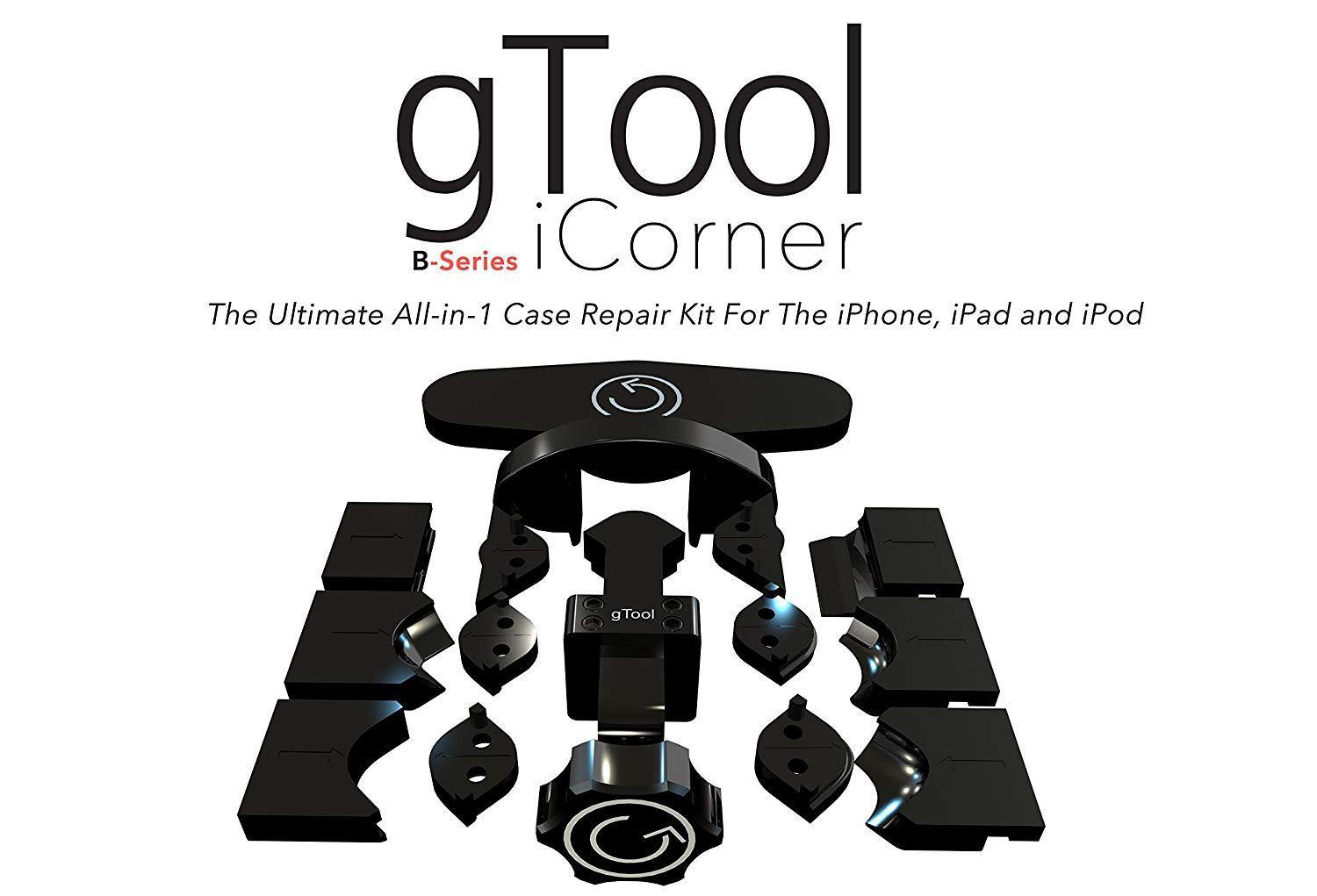 gTool Corner And Sidewall Repair Kit
The gTool Corner And Sidewall Repair Kit is the set of tools to bend out a dented or bent metal frame of apple devices. The package includes a complete set of interchangeable heads and tools that allow you to fix the corners and sidewalls of all apple devices including iPhone, iPads and iPods. The tool package also contains the repair heads for the latest model of iPhone like iPhone 7 and iPhone 7 Plus. It costs about $250.
Buy it now on Amazon: https://amzn.to/2tGEtVV
Sometimes, a fallen Apple device has some bent corners and damaged sidewalls of aluminum cases. Having the right corner tool for an iPhone and iPad repair can be the difference between being able replace the screen or not. Display assembly corners and sidewalls of most iPhones and iPad devices can be repaired through this tool kit. It is a must-have tool for every iPhone repair technician. Having the right sidewall and corner repair apparatus means you can get the job done quicker, properly and more professionally. The tool is portable due to its lightweight and compact size. Moreover, it is sturdy and made up of durable materials. 
Inside

gTool 

Corner And Sidewall Repair Kit
The gTool kit contains the following tools for Apple devices
Corner and sidewall repair sets for iPhone 5 series including 5S and 5SE.

Corner and sidewall repair sets for iPad2,3, & 4.

Corner repair sets for Apple Pads including iPad Mini, iPad Pro, Mini Retina & iPad Air

Corner repair tools for 4

th

Generation iPod devices

Corner repair sets for iPhone 6, 6S, iPhone 7 and 7 Plus

The toolset also contains an adjustable corner assistant set with iCorner Driver and Hex Keyset.

 
Pros and Cons
We explore the benefits and analyze customer reviews for this tool and came up with the following. 
gTool Corner And Sidewall Repair Kit provides you many advantages over other tools and corner repair fixtures. This tool allows you to repair your damaged edges and corners in minimal time with no steep learning curve involved. The device is multipurpose and highly adaptable, contains a verity of heads for a large number of applications. gTool Corner tool can also be used to straighten the corner and sidewalls of aluminum cases of MacBook assemblies. The tool provides you the full working visibility; the edges are fully visible while the tool is fixed on them. 
Moreover, there are fewer head swaps involved in the operations as one head is designed to work for more devices. The durable material provides the long-lasting life and can be used for fixing 100s of the corners and sidewalls.
There is also a limitation, some customers mentioned that the corner repair set does not provide tools for MacBook devices and some android devices made of aluminum. There is also the problem with the hand grip that is uncomfortable when applying a lot of pressure to bend out a stubborn frame corner. Finally, the price is somewhat steep considering you may not use this tool that often and will be used on somewhat rare occasions (frames don't get dented that often since they are metal and most use some kind of protective case that reduces this from happening)
Conclusion
Next time when you drop your device and damage its corners and sidewalls, you don't need hammering and chiseling for bending your bent and damaged iPad frames and iPhone frames into shape. The gTool Corner And Sidewall Repair Kit makes quick work of straightening the frame on most Apple devices and you won't regret the purchase.
---
---
Leave a comment