WOWSTICK 1F PRECISION ELECTRIC SCREWDRIVER (2ND GEN) Review - Repair X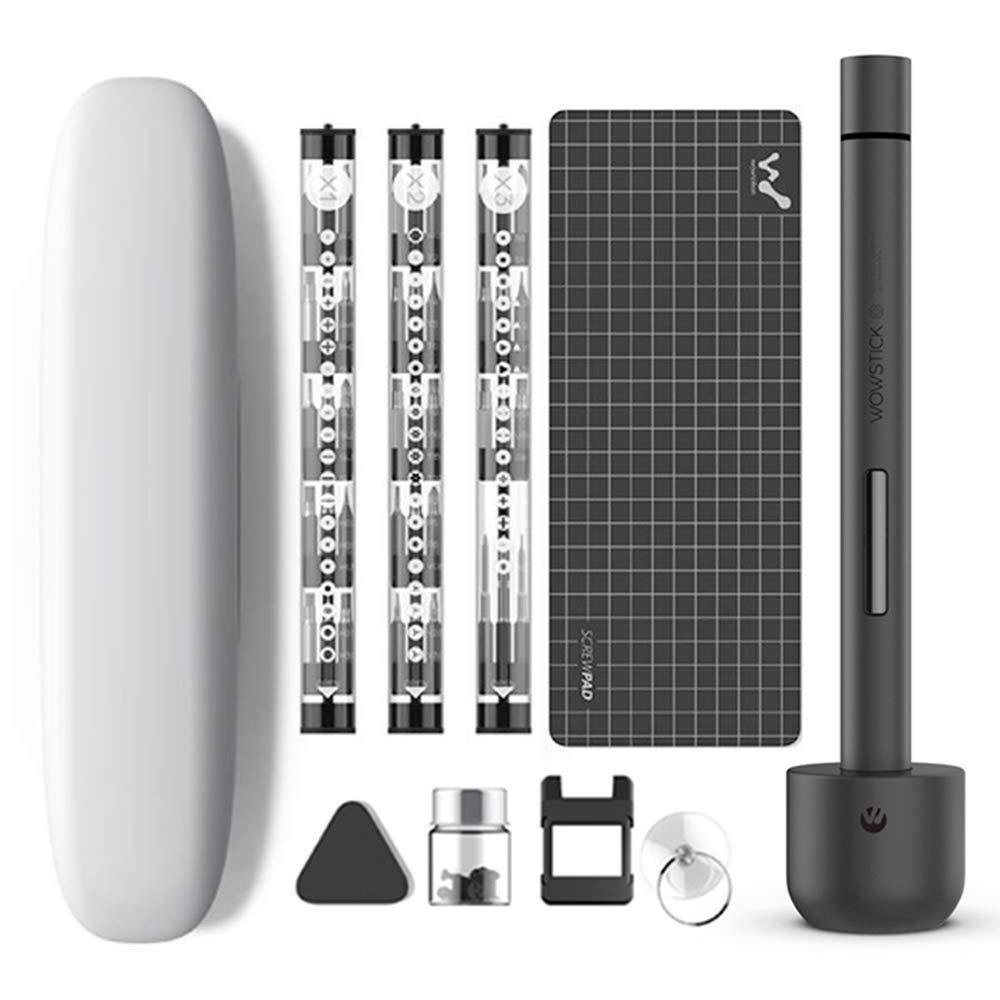 Affiliate links used in this article]
The Xiaomi Wowstick 1F+ is a dual power screwdriver, but it comes with a ton of accessories that can prove it to be a lifesaver.  The tool comes with 56 popular bits including Hex, Slotted, Torx and many more. driving speed of up to 200 It can produce the torque of 0.15 with electric force and up to 3 with manual push. The screwdriver comes with a slim aluminum body with easy to grip shape.  It cost you about $42 in the North American region. 
Buy it now on Amazon: https://amzn.to/2SAMgwO
What's
The Wowstick 1F+ is the latest addition to the Wowstick family. Inside the package box, you will find the dual power screwdriver. Apart from that, you will get a small magnetic pad on which you can work and can handle the small screws without losing them. Next, you see three boxes of screwdriver bits, in which you will find a total of 56 different flat and star-shaped bits. All the bits are made from durable S2 tool grade steel. Each bit is engraved with a standard bit number. The variety is great, some of them you may never use. Some of the bits are also double in length to reach far flange areas or in tighter spaces. 
The package also comes with a bit case made up of magnetic material. It can hold up the two sets of bits in it at a time. So, arranging your bits will never be a problem again. You will also get a docking station in the box, that is used to hold the screwdriver in a vertical position during work or storage. Moreover, you will get in the package which will contain a charging cable and a small jar for screw storage. You will get a which can also act as a that you can use to magnetize and demagnetize your bits depending on your needs. The accessories of this toolkit do not end here. You will also get a rubber sucking pad to handle the screen and a triangular screen separator. 
Buy it now on Amazon: https://amzn.to/2SAMgwO
Features
The body of the Wowstick is entirely made up of metallic material, which comes in space gray. The bit is inserted at the one end of the Wowstick while the other end of the stick contains a micro-USB charging port along with charging indicator light. 1F+ is the first version of the Wowstick family that comes up with a lithium-ion battery. In earlier versions, they had AA batteries. The operating button is installed in the middle of the stick, one end of the button unscrews while the other end tightens up. The screwdriver is also equipped with a shadow light, which makes the operational area more visible. 
Buy it now on Amazon: https://amzn.to/2SAMgwO
---
---
Leave a comment