Hakko-FX951-98 Soldering Station Review - Repair X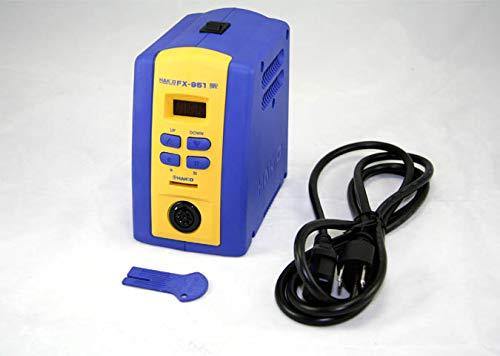 Affiliate links may be used in this article]
Hakko-FX951-98 Soldering Station is a compact iron works built with high unit. The soldering provides high thermal recovery for lead-free soldering works. The system supports nitrogen as well as micro soldering along with the standard soldering options. The soldering station comes with a composite tip equipped with high-quality heating elements and sensors. Though the design is highly compact, it still offers superior thermal conductivity and excessive thermal recovery. 
Buy now on Amazon: https://amzn.to/3bpYZv5
What will you get?
If you are planning to buy a brand-new Hakko-FX951-98 Soldering Station, you will get an FX-951 Soldering Station along with an FM-2027 Soldering Iron. The package also includes a Sleeve or Grip Assembly. Moreover, a Control Card or Key is contained within the box. The new station comes with a Power Cord, an Iron Holder Stand, and a connecting cable. Besides, a Heat Resistant Tip Changing Pad is also counted in the package. Also, you will get a Tip Tray or Holder and an Instruction Manual. If you buy this tool in North America, then Nozzles and extra tips are not included in the package and you have to buy them separately according to your needs. You can use 85 different types of standard soldering tips with this soldering iron.
Specifications
The soldering station consumes 75 Watts power, resulting in a heating range of 200 – 450⁰C or 392 – 842⁰F. It works on 110V input and 24V output voltages. High-temperature stability is the best feature of this device. The tool can provide temperature stability of ±5⁰C or ± 9⁰F in idle state. The device is pretty much portable and designed in the dimensions of 80mm width, 130 mm height, and 131mm length. The work station is accounted for 1.2kg or 2.6lbs weight.
Three different types of soldering irons can be used FM-2027 Soldering Iron, which is included in the package, used for general purpose soldering operations. FM-2026 can be used for specialized nitrogen soldering operations in which the soldering jobs are prone to rust and oxidation. micro-sized soldering, FM-2032 MICRO soldering iron can be used with Hakko-FX951-98 Soldering Station. 
Buy now on Amazon: https://amzn.to/3bpYZv5
Power saving in Hakko-FX951-98
The working station comes with excellent power saving options. Moreover, the iron holder is equipped with an interlock mechanism, which makes it easy to set You can adjust power-saver settings with high accuracy for up to 30 minutes. You can also set up a sleep mode for 0 to 29 minutes. Auto-power and shutoff mode can turn off your device after idling 30 minutes. 
Safe and adjustable iron holder
The iron holder comes with a lock-type Sleeve Assembly designed in beautiful four colors. The angle of the iron holder is flexible and can accommodate the soldering iron according to your working position. Moreover, the iron holder is enclosed type which enhances safety during use. During the installation of the tips, a click sound confirms the secure insertion of the tip into the iron. 
The best way to use Hakko-FX951-98 Soldering Station is to combo it with Hakko FA400-04 Bench Top ESD-Safe Smoke Absorber.
Additional Supplies you will need with this product:
Solder Wick: https://amzn.to/2w5qzxz
Rosin Soldering Flux: https://amzn.to/2OH2CmE
Book on soldering: https://amzn.to/31IdNAP
---
---
Leave a comment